Now that I have my new workshop (mostly) kitted out, I really want to get on with making some bigger items. So I made a start a few months back, pretty much right after the lathe was up and running again, with a piece of ash that gave me a blank just under 16″ diameter (400mm for the ISO folks).
I didn't have any particular plan, I was just trying to have some fun, and somehow this shape emerged, with a curved outer rim, a raised ring, and, instead of a bowl shape, a domed centre. The wood was dry and stable, harvested from an ash tree that came down about a year ago, and I left the whole thing in a cupboard for another 2-3 months, looking at it in regular intervals.
Inspiration did take its time. One day I suddenly saw what I wanted to do with it, and from there it was easy. There was loads of work to do, with all the carving and the masking and colouring, but I knew where I was going. So here it is: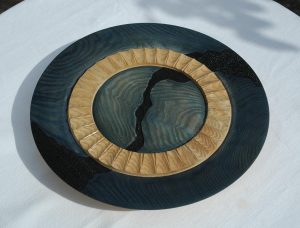 Considering this is the first of its kind, I should probably be happy. I am, but only to a certain degree. The colouring is not good. I completely miscalculated the effect the natural colour of the ash would have on the blue. Instead of giving it a little contrast (see the classical shape piece from a few weeks ago), the blue just looks dead.So, next time around, I need to either use a different wood or choose a different colour. I am happy with the carved rim, and the black textured streak is OK, but needs a little more definition, I think.
Well, I've got a few more large blanks lined up and rough turned already, so watch this space, there's plenty more to come.