My eyesight is somewhat less than perfect. For most of my life I was shortsighted (not a lot, about 2.25), and now old age is starting to compensate for that. However, I can now not focus any longer on things that are very close or very small. Consequently I have bought myself a set of magnifying lenses on a headband, which leaves my hands free.
This has worked well for me on many occasions, and I also have quite a few lights arranged around my lathe. As nature will have it, though, very often for fine detail work my head is getting in the way of the work lights.
When I was browsing around the local pound shop, I came across these small LED torches. And a light went on in my head: how about attaching two of them to the headband with the lenses?
Bingo: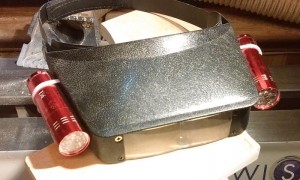 As you can see, they are simply held in place with a cable tie. I still have access to the back (screw cap for battery changes), and the shape of the headset means that the LED light beams meet around 2 feet in front of my eyes.
Some of you may think: yeah, right, now he really looks like the mad professor, but let me tell you: this works brilliantly.