My real name is Wolfgang Schulze-Zachau, and Fuzzy Rainbow is my alter ego, invented many years ago by my stepson Michael. He claims that my German identity is just a cover, and that in reality I sprang into life 4000 years ago on the planet Zorg, complete with grey hair, beer belly, glasses and beard, and I have come to Earth to explore human emotions.
In the real world I am an IT Professional. Born in 1960 in the south of Germany, I have lived in many different parts of the world, before I finally settled with my second wife Helen and her son in the West Midlands (UK).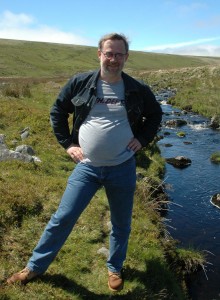 Ever since I was a boy I have built models from wood. First it was aeroplanes, mostly gliders, and with widely varying success. Then, for many years, this came to a halt. There were kids, and too many moves, and not enough time or money to pursue this hobby. Around 15 years ago, I started building again, this time boats, mostly scratch-built. They are now dotted all around the house, and the very first one is with a good friend in Johannesburg, as it was too delicate to travel.
A few years ago we finally finished refurbishing our house, and I managed to get a proper workshop into the garden. The initial plan was to go back to my model building, and expand into making my own steam engines. So I equipped the workshop with a proper little lathe with a milling attachment, and all sorts of metal working tools. I had the good fortune to have a father who part-owned and ran a cutlery factory, and during my school holidays I would always work there to earn some pocket money. This resulted in me essentially going through a toolmaker apprenticeship, although it was never called that.
My stepson wanted to learn how to use a lathe, so I decided that a nice little project would be a mallet, turned from some Indian hardwood that made up the crates for the stone slabs in our backyard. Then my wife wanted to do something, and we made a kitchen roll stand. And then the ideas started flowing. Next was a set of three candle sticks, and before I really knew it, I had so much fun making things from wood, that I decided to explore this further.
Big mistake! The turning bug bit, and it's got a proper hold of me. Wood turning allows me to do several things. I have a boyish delight when the shavings are flying off the lathe and, like most other people, I just love to caress a nicely finished piece of wood. All IT geeks have a creative streak somewhere, but it finds little expression in the real world, because one cannot touch software. Here, in my workshop, I can unleash my creative side, and the results are real. I can play with shape and colour and texture, and every now and then this produces some piece I haven't seen anywhere else.
I have taken some tuition with professional wood turners, and I intend to take some more. I cannot claim to be in their league, but two of my pieces have been chosen to represent the AWGB on their nationwide 2-year-long exhibition tours. The future is bright, and it has lots of wood in it.