A short while ago I had an enquiry through my website. It was from two guys who run a business in Lye, mostly doing photographs and videos for Indian (mostly Sikh) weddings. Recently they have branched out into providing backdrops and other paraphernalia, not to the weddings themselves, but to the wedding organizers. The actual enquiry was for some supersize candle holders. After quite a bit of emailing images and drawings we eventually settled on 2 designs, and I am now making 6 samples, 3 are 1m long and the other 3 600mm long (same design, just shrunk by 40%). So I got myself some raw pine, and here are the first bits ready turned and sanded: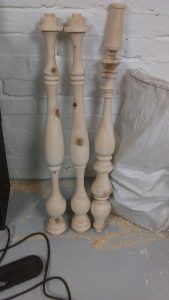 You can clearly see the two different designs, both quite traditional (a more modern design was rejected), and they do take a bit of time to make, mostly because of the size.
The pine is actually not as easy to turn as one would think. The knots are quite hard compared to the rest of the wood, and demands really sharp tools and even then there's a lot of vibration going on.
In addition, the end grain wants to rip rather than cut and some of the knots have lost bits. In other words: we will need some wood filler. However, this isn't as bad as it sounds, because these fellows don't want natural wood: two of the samples are to be sprayed matt black, two in gold (!!!) and two in a white wash.
According to Paul (that's one of them), their customer will probably order around 50 or so. Well, then, as the title says: this could be big.
Update:
All 6 of them are now finished and waiting for the customer to collect. And then we'll see how many they will order, if any at all.  It took longer than I thought, and a lot longer than I can afford if this is going to be a useful commission. And I will need a better setup for finishing them. Aerosol cans will not do the trick. Anyways: here's a picture of them all together: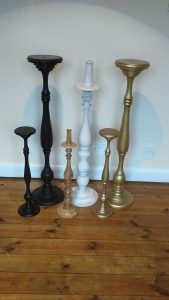 Update II:
The sticks have now been collected, and I have issued a quote for making them in batch. I am actually going to subcontract the turning to another turner, and only do the assembly and finishing myself. That's still quite a bit job, but at least I won't be getting tired of turning the same shape 50 times. We'll see how this goes.