To all my blog readers I wish a happy and prosperous year 2018!
I haven't posted in a while, mostly because I have been busy in the workshop creating new things. And I have a success story to report: This piece was chosen as the turning of the week on the forum of the Woodturners Unlimited (an American forum):
Made from a sycamore crotch, which was initially intended to be a bowl. However, on closer inspection I found that the crotch figure was only really present on the inside, and therefore it would have had to be a natural edge bowl, but the growth of the branches coming out of the crotch was so odd that it would have looked funny. So I decided to turn it into a shallow hollow form. The crotch figure produced some cracks which I decided to carve away, and ended up with this "singing mouth" almost by accident (it certainly was not any deliberate design). Serendipity in action, if you want. I am certainly more than happy with it.
Here's a link to the post on the forum
Here's a side view of the same piece: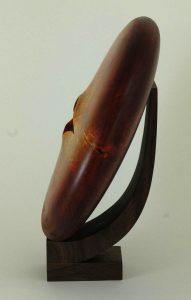 See you all in 2018 and keep the shavings flying!