is another man's gold. Or so the saying goes.
Recently I was offered to go through somebody's firelog pile, and I picked up a whole lot of leylandii, in varying stages of drying, and in all sorts of different shapes. Leylandii is a fast growing conifer, and it is a natural hybrid between the Monterey cypress and the Nootka or Alaska cypress. It is abundant here in the UK, due to its popularity as hedge plant and its fast growth (which requires regular trimming or even felling). The wood is almost pointless as firewood, as it burns very rapidly.
The wood is quite soft, very fibrous, and on most trees there are lots of little knots everywhere, which makes for very nice, swirly grain patterns. However, as the wood is also almost white, these are not easy to see, unless you do something with it.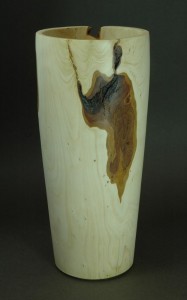 As you can see on this picture, other than the remainders of the bark, there's actually very little of visual interest.
Since the wood is so fibrous, it requires very sharp tools, and turning at high speed, and even then it will tear out badly. In consequence, lots of sanding is required.
Once you have gone through all that pain, however, there is magic to be had, with the judicious use of stains or dyes. Just look at the next few pieces, and I think you'll agree with me.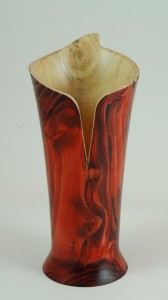 So here we go: first something in various shades of red and orange. The shape is not incidental either, I wanted to depict a stylised flame. You be the judge of that. But already this piece is showing the grain very nicely enhanced, and this is classic spindle turning (where more often than not, the grain does not do magic stuff).
But look at this! Side grain and end grain mixed, plenty of different colours blended into each other (and again, lots of sanding between the colours, and some shiny acrylic lacquer on top. It doesn't get much better than this!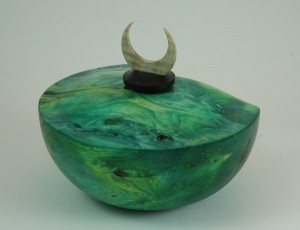 As I said, what other people would burn without a second thought, can be turned into magic with bit of work and a bit of colour.