I recently paid a visit to a local art gallery cum gift shop, to have a chat with the owner over possibly showing some of my work in his shop. It was a very jolly conversation, but it turns out he already has wood turnings, mostly bowls and vases, from another local turner, and he didn't sell many of them.
So I started thinking what other items he might sell. After a short while we settled on the idea of me producing some bottle stoppers in various sizes and various degrees of sophistication, to see whether he could see this fit into his product range.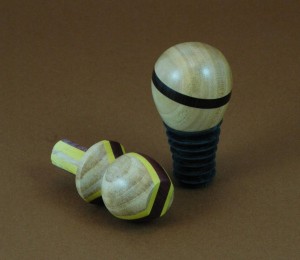 Here are some first attempts. I've ordered myself 12 nice metal cone bottom pieces, as clearly the simple silicon plug visible on one of these isn't quite going to cut the mustard in an up-market gift shop/art gallery.
We'll see how this goes. I have all sorts of ideas what to do with them. The ones pictured here are cherry with an African Blackwood band (upright) and ash with a centre from purpleheart, sandwiched between thin layers of mahonia. And before you ask: no colours were added to these items, just the wood and some wax as a finish.