When I first started out turning, I only had a ceiling light, a single T8 tube. It worked, but not very well. I then went and got myself two LED spotlights (from charnwood) on swan necks with magnetic bases. For a long time, one of them was sat on top of the lathe, and this was better. But it still wasn't great.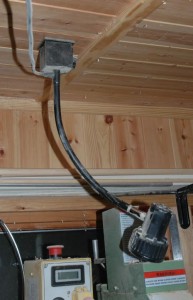 Eventually I decided to fix my lighting situation for good. I made two square steel plates and screwed them to the ceiling, and this is now where the spotlights hang down from the ceiling. One is above the lathe, the other above the bench grinder.
The picture to the left shows the one above the lathe, and you can just see the steel plate on top of the magnetic base. Should I ever need to move the light, I could easily make some more (or larger) base plates, and I'd have all the flexibility I need.
What you can also see on the picture, are plenty of cobwebs (spiders must have some predilection for workshops) and plenty of dust. I still need to get myself a proper air filter, the vacuum just doesn't pick up all the dust in the air.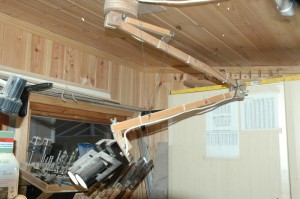 And then I spent an entire weekend making myself an adjustable light. I constructed a revolving base, which is mounted onto a large piece of plywood (for easy mounting on the ceiling). Attached to that base is an arm with a knee joint. At the front of the arm is a headplate wth 2 spotlights attached to it. The whole thing has 4 degrees of freedom, works really well. If I had to do it again, I'd probably make a few modifications to improve on it, but for now, this does the trick.
Initially I had 2 50W halogen bulbs in there, but I soon realized that this was going to burn me ears off. So I replaced them with LED lights, and now it works beautifully. I can even use it put lots of light onto my work bench on the other side of the workshop, where I do a lot of my decorating, carving and finishing.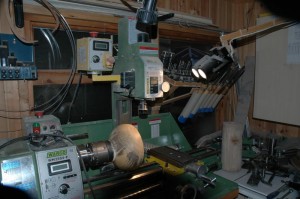 All of the lights are wired into a power extension which itself is wired in parallel with the main light in the shed, so I can switch all of the lights on with the main switch.
If you struggle with light around your lathe, I'd seriously recommend doing something similar. It is money well spent, I promise.