Friends of ours have recently remodelled their back garden, and decided that their big holly tree was just getting in the way and needed to go. Luckily they mentioned this to me at the time (about 6 months ago), and I said that I would be interested in it, but only if it is cut down in winter.
About 4 weeks ago they had all the branches trimmed off the tree, and yesterday their gardener Andy and myself brought down the rest. It was still about 7m tall, but we had some long ladders and plenty of rope. Since the trunk divided into two about 8ft from the ground, we could use on half to provide a fulcrum for the rope when cutting off the top of the other half. This work exceedingly well, until there was only the bottom piece of the one trunk left, and that was felled with precision by cutting nice wedge out of it and then sawing through the back. It bounced off the garden well, but only because Andy had his wedge direction slightly off. The trunk itself was felled with the same method.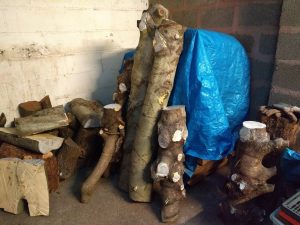 This picture shows (from left to right) 4 crotch pieces cut from the top of the trunk, 2 upper trunk pieces (with loads of branches cut off), the two long trunk sections on top of the crotch and another two upper trunk pieces with branches cut off. The crotch pieces are about 14″ across and up to 6″ thick, and already they show some very promising figure.
I also managed to cut the trunk in halves, firstly because otherwise it would have been night impossible to get into (and out of) the car due to weight, but also secondly to prevent checking. All end grain has been treated with PVA, so now we just have to wait.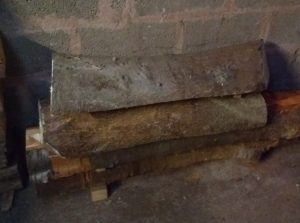 This picture of the trunk is very grainy, due to the comparative darkness in the store room. The bottom two pieces are a trunk of a cherry, which I recently had from another gardener named Andy, and then we have the two halves of the holly trunk on top. 14″ wide, up to 7″ thick, no branches, and towards the top with the figure that indicates the start of the crotch.
If anybody is interested, contact me and I am sure we can find a piece for your needs, but please remember that this is at the moment all very green wood.