… you shall learn from your mistakes. I know, that's not quite what it says in the bible, but it's much more appropriate here.
I have not had much luck lately with my endeavours. I turned a goblet for a club competition, and when I was down to about 1mm wall thickness, and ready to just give it the final cut, it just exploded on me. I couldn't even find all the pieces afterwards.
I turned some blanks, only to have several of them develop some serious cracks. Not sure I can use them for anything.
Then I started playing around with a new vase form, with some cutting away of the rim. One of them (the prototype) came out all right, but needs more work in other areas. On the second one the overhanging rim bit just snapped off. I am now trying to glue it back into place, but most likely that will then prevent the colouring as I wanted it.
Then I went through the bottom of a bowl using my bowl saver. That was a first for me.
And now this:
I turned this platter from a nice piece of rippled sycamore. There was a crack, but I had it filled with glue. Or so I thought. When I applied the stain for the rim, it soaked right into the crack and that essentially ruined the piece. So I decided to cut that whole section out and make it into a feature, by inserting a piece of purple heart.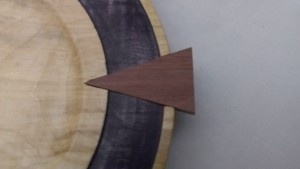 As it turns out, that is almost impossible. Even with sharpened and honed carving chisels it is night on impossible to get a really nice clean cut against the grain, and in consequence the joints between the insert and the dish just look bad. So unless I now cut more off and think of a different way of inserting a piece, this is very nicely coloured firewood.
I suppose this is all part of the learning curve. But it still hurts.