Over the Christmas period, I have spent quite a bit of time in my workshop. Some of it produced finished pieces, mostly as presents for family and friends (and there are largely no pictures of these), some for general sale, and more about that later.
However, most of my time was just spent preparing raw lumber into turning blanks. Here's the result: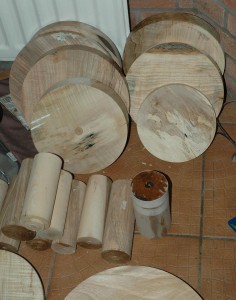 Here we have some bowl blanks and spindle blanks. The spindle blanks are mostly black poplar, all cut from one piece. The wood is very similar to ash, except for one thing: it stinks. It took me a while to figure out what the smell is most like, but eventually I got there: pig shit.
The bowl blanks are a mixture of sycamore, beech and ash, in varying diameters from 8″ to about 12″.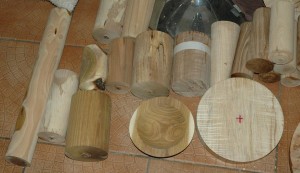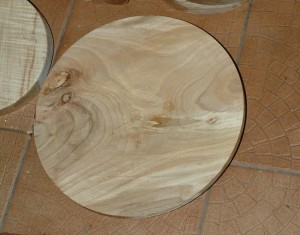 Some more spindle blanks, this time from beech, laburnum, yew, sycamore, and lonely rough turned bowl (from a piece of wood I got from Steve Earis). However, in my drying cabinet there are a further 7 rough turned bowls, and they are slowly getting to the point where I can actually do something with them. None of them are very big, all about 6-8″ across.
And finally a nice big shallow dish from spalted elm. Unfortunately the spalting is mostly on the underside, and I had to turn most of it away, as the wood was so soft it wouldn't hold up to anything.
I know already that this will either make a very nice wide dish, or it will become part of a sculptural piece that I sketched out a few months ago. Once it's dry, I'll make the decision.
So, as you can see, I have plenty of blanks waiting to dry. In addition, my pile of raw cut lumber outside the workshop has also seen some additions just before Christmas, but that will have to wait a while. With all the awful weather we've had recently, it has no chance to dry out at all. Well, what can you do?
Tara for now.