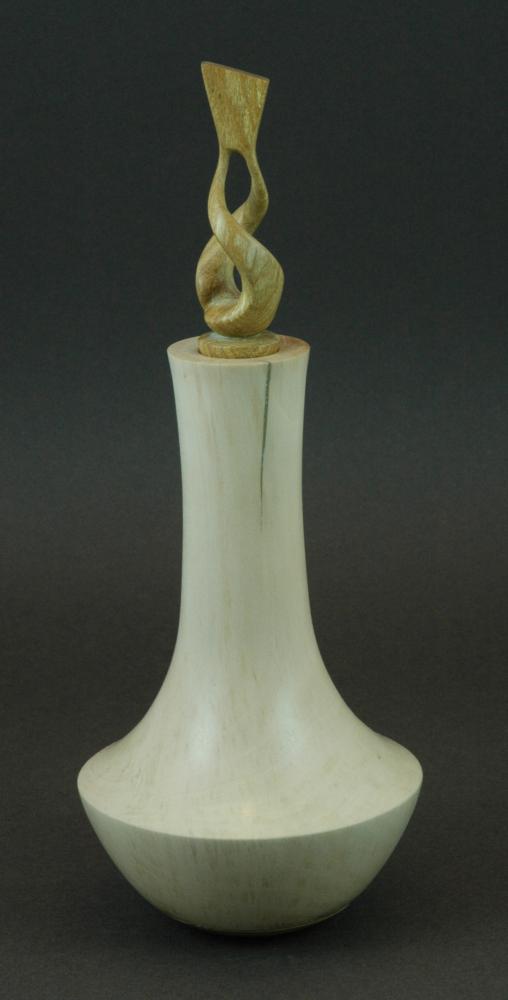 With its classical brandy bottle shape, and the delicate stopper on top, it might be tempting to think that one could actually use it store brandy. Although brandy and cognac are actually matured in oak barrels, I would not try this with this item. It has not been treated on the inside at all, and it's made from ashleaf maple (also known as box elder), but in this case without the frequently seen red stain caused by injury to the tree.
The bottom and the stopper are made from laburnum, another reason I would not recommend this vessel for anything other than purely aesthetic purposes.
When the piece was rough turned and dried, it developed a huge crack on the neck, which later during the drying process shrunk again to the size it is now. Rather than throw it away, I decided to make it a feature, by filling it with a mixture of brass powder and glue, adding a nice additional touch to it.
Certainly a unique item in any way, and could easily form the center piece of a display cabinet.
Shipping:
UK - Royal Mail Signed For 2nd Class:

GBP 5.00

RoW - Royal Mail Int. Tracked & Signed:

GBP 10.00
Features:
Height

10

in.

Diameter

4

in.

Wood

Ashleaf maple, laburnum

Finish

Wax